CPR Training for KS4 & KS5!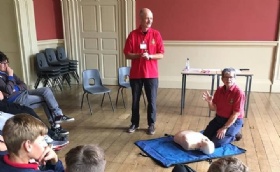 Key life saving skills at Slindon College...
Our Slindon College students in year 10, 11, 12 & 13 enjoyed a visit from NHS volunteers Suzanne Martindale and her colleague, who came to teach some key life saving skills, including CPR training and how to use a defibrillator.
It's all part of a British Heart Foundation initiative called 'Restart a Heart.' They want as many people as possible to know life saving CPR. For more information visit their website.