Arlan raises over £12,500 for Charity!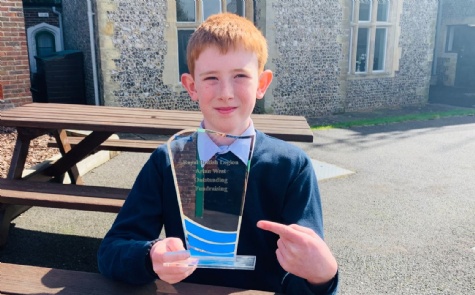 Arlan was presented a trophy by the Royal British Legion for his Charity Work
At Slindon College, we support a number of national charities on an annual basis with various fundraising events including mufti-days, sponsored walks, cake sales, raffles. This allows the College to be able to make donations, monetary and goods, and raise awareness for those charities. We hope to inspire our students to do the same in their spare time.
We are so proud of Arlan in our Primary who has been given a trophy from the Royal British Legion, Selsey for his outstanding fundraising! In his own time, Arlan raised over £12,500 by courageously attempting biking and walking activities, getting sponsored for each mile he completed!
Arlan initially thought he had raised around £5000 and was surprised when the Royal British Legion presented him this award informing him how much he had raised for a variety of charities. One of these being the Cat & Rabbit Rescue Centre, currently the Charity for our very own Cowdray House.
Well done Arlan, you are an inspiration to us all!
To find out ore about the charities we support at Slindon College, see our dedicated Charity & Community page.