Andrew Griffith MP visits Slindon College for Careers Week 2023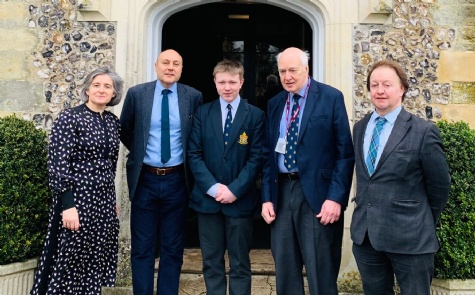 Slindon College celebrates National Careers Week 2023 with key guest Andrew Griffith MP for Arundel and South Downs
National Careers Week (NCW) is a one-week celebration of careers guidance and free resources in education across the UK. The aim is to provide a focus for careers guidance activity at an important stage in the academic calendar to help support young people develop awareness and excitement about their future pathways. As part of this, Mr Burbidge (H.O. Careers) has lined up a week of thrilling interactions with the outside world.
Careers Fair
Slindon College hosted a Careers Fair with a mixture of external companies shoulder to shoulder with some of our parents in their professional capacity. Staff, Friends of Slindon College (FoSC) and parents were on hand to help with the interactions and to make sure that all of our students had a chance to speak to their area of interest.
We were joined by Mrs Kerr (Business Consultancy), Mrs Dancey (Driving Instructor), Mr North (Tree Surgery) plus representatives from Pharmaceutical and Biotechnology, Fraud prevention, Science and Technology, a STEM Ambassador and the National Trust came in to talk about the management of the countryside and some of their unique properties such as Slindon College.
Andrew Griffith MP for Arundel and South Downs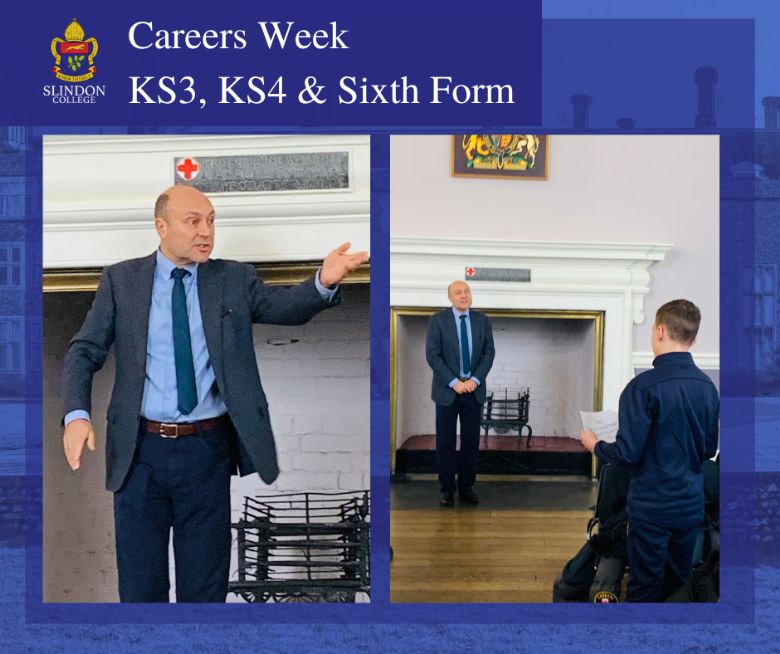 Andrew Griffith MP for Arundel and South Downs came to Slindon College today to talk to the students as part of Careers Week. In addition to a presentation about his work, he also took part in a Q&A session with the whole of KS3, KS4 & Sixth Form, with students having prepared questions for him ahead of time.
Chichester College and Brinsbury College
Sophie Sargent, the Schools & Community Liaison Officer for Chichester College and Brinsbury College, gave an inspirational presentation to our Sixth Form about the varied courses they have to offer.
MPCT Military Preparation College, Portsmouth
The Military Preparation Academies can be found across England and Wales, all offering a fantastic and unique training environment for young people looking to start their military career. An excellent presentation was given here to our Year 10, 11 and Sixth Form students.
Mr Burbidge said:
"I'd like to thank our fantastic visitors, volunteers and staff who gave their time to make Careers Week such an enormous success!"