Christmas Celebrations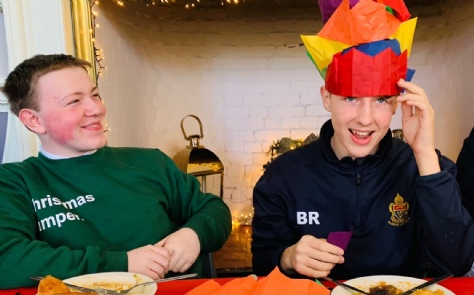 Slindon College were again delighted to host a special Christmas Celebration for the final day of term this year, with the traditional staples of our College Christmas!
The Head Boy: Christmas Speech 2022
Written by Edward (Head Boy) & Ben (Prefect for Richmond)
Christmas Dinner in The Great Hall
The school gathered around their House tables in the Great Hall to enjoy a fabulous festive feast! Dressed in their very best Christmas jumpers, it is traditional at Slindon College to be served at Christmas by members of the Senior Leadership Team -this includes our Headteacher, Mrs Vlahodimou! A big thank you to all who made the day memorable, especially our fantastic catering team!
'A Christmas Carol' at St Mary's Church, Slindon
'A Christmas Carol' took place at St Mary's Church in Slindon. This year the audience were treated to an amazing performance directed by Mr Bentley-Angell and Mrs Seaby. Well done to all of the fantastic actors!
A Carol Service also included readings (this year by some Heads of Houses, the Head Boy and Chair of Governors) as well as Christmas competition winner being announced and singing of Christmas Carols, with students able to perform 'We Wish You A Merry Christmas' in sign language.
Headteacher, Mrs Vlahodimou also shared some excerpts from the very positive ISI Inspection report we received following their visit! You can read it at: https://www.slindoncollege.co.uk/about/inspection-reports
Competition Winners
Christmas Cookery Competition Winner: Lenny (Year 10)
English Poetry Winners: Matthew (Year 8), George (Year 8), Ben (Year 11)
Christmas Fair at The College
To end, our parents and students were invited to take part in a Christmas Fair in aid of our various House charities. A full buffet lunch provided by our excellent caterers with stalls and games created by the students in their classes Plus, just a little mulled wine!
Thank you to all the staff for a wonderful Christmas celebration!