Congratulations to our published poets!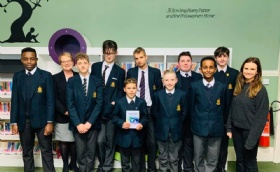 Congratulations to our talented poets, whose incredible work was entered into the Young Writers "Through Their Eyes" poetry competition. This was run by our English Department with the whole school taking part before being judged by the team at Young Writers.
There were 10,000 entries nationwide and we were delighted that poems written by twelve of our boys were selected to be published in the Through Their Eyes: Anthology.
The boys were:
KS3
MATTHEW LEVITT
LEYTON PARTRIDGE
CHARLIE WREFORD
SAMUEL GHEBRE GHIORGIOS
LENNY HOPKINS
KS4
REECE ANDERSON
OLLY SKINNER
TOM CRANE
THEO STAPLETON
CORMAC WILSON
ARCHIE WELLER
LEO MITCHENER
Some of our fantastic winners are pictured below with their English teachers Mrs Bull and Miss Gregory. Well done!