FoSC Egg-cellent Easter Event!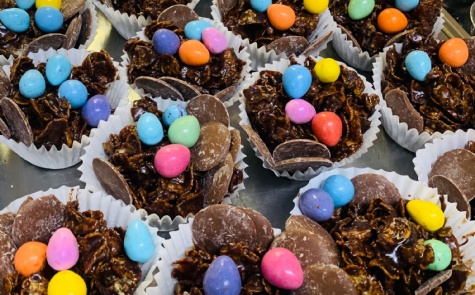 FosSC or 'Friends of Slindon College' are a body of parents and carers who kindly fundraise for our school through some egg-traordinary events!
An egg-citing finale to our Spring Term and a big thank you to our lovely FoSC members who put on a fantastic fundraising event in the Great Hall!
The event was well attended by all at the College, from our primary department to our sixth formers and featured a collection of games and activities with a clever Easter theme!
- Easter Egg Tombola
- Chocolate Cake Draw
- Name the Easter Bunny
- Bean Bag Bunny game!
The school catering team even whipped up some luxurious Easter Egg cakes for our pudding at lunchtime!
Headteacher Mrs Vlahodimou said:
"We are so lucky to have such hardworking and dedicated parents and carers who give their time so freely for our School. Thank you so much for an amazing event!"
Find out more about FoSC here.
Find out more about our charity work here.