Silver Award Winners!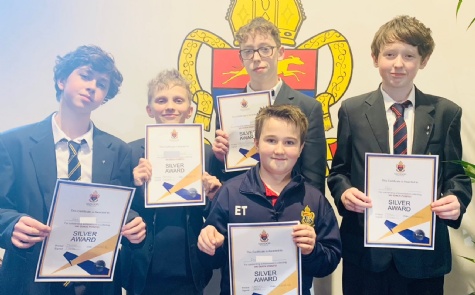 Our four school Houses are Richmond, Sussex, Cowdray & Norfolk.
The Great Hall hosted a thrilling celebration assembly today led by the Senior Leadership Team and members of the Head of House Team where students were rewarded for their House Points!
Throughout the year, Points are awarded where students have gone the extra mile in lessons and other activities, with many students picking up their Bronze Awards today.
A special well done has to go to Luis (Year 8 ), George (Year 8 ), Alistair (Year 9), Enzo (Year 7) & Fraser (Year 8 ) who surpassed their Bronze to achieve their Silver Award!
Students are able to showcase their Bronze, Silver & Gold awards on their lapels.
Find out more about our school houses here!
Mrs Miles, Head of Houses said:
"Huge congratulations to all of our students for their wonderful achievements throughout the year an especially our Silver winners! Keep up the good work!"