"Something Wicked This Way Comes" for LAMDA!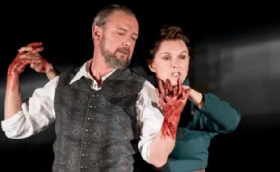 Our lucky LAMDA students in Year 10 & 11 had a 'wicked' visit to one of the top theatres in the country; local Chichester Festival Theatre, to see 'Macbeth' by William Shakespeare.
After a series of Drama workshops focussing on the language and plot of the famous play, and with special resources made to help decode the live performance a little clearer, the students were captivated by the unique staging and tantalising performances by Doctor Who stars John Simm and Dervla Kirwan which saw fighting, blood, gore and awe!
Our students recently gained 100% distinctions for their exams in 2018/2019. To find out more about LAMDA, see our page here.
LAMDA and Drama are co-ordinated by Mr Glyn Bentley-Angell.