Prospective Parents: Visit the College.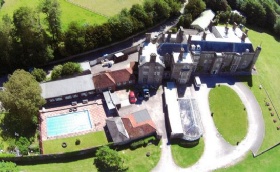 Prospective parents are invited to visit Slindon College where they will be given a private tour of the College and Grounds by the Headmaster.
You can find out more about our Admissions Process below.
Contact the College
Following receipt of your enquiry, our Admissions Officer will contact you. This is an opportunity for you to find out more about Slindon College and for us to learn about the applicant. To assess suitability we will request copies of the pupil's most recent school reports and references.
Meet with the Headmaster
International applicants, after the initial review, will be invited to meet our Headmaster via videochat. All other applicants will be invited to visit the College, meet the Headmaster and tour the grounds.
Taste of the College
Prospective pupils may then be invited to attend a 'taster trial', where the pupil will experience life at the College.
Place Offered
On successful completion of the trial, Slindon College will make a formal offer to enrol.
For a detailed insight in to each stage, or for information regarding fees, please click here.