100% Passes at A Level, AS Level & BTEC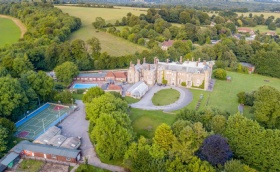 The students and staff of Slindon College are delighted to be celebrating their A Level and Vocational results for 2020, for what has been a challenging year globally.
Slindon College Sixth Form students have gained 100% passes at A Level, AS Level and BTEC Level 3. Despite national news reports concerning schools across the UK, the exam board decided to accept all grades awarded by Slindon College, without any changes.
This year has seen many outstanding personal performances from our hard working and dedicated students. Congratulations in particular to Jaz S. who has gained passes in A Level Applied Science, Design & Technology and Graphics, plus AS Level Graphics. He will now take his education forward towards his choice of university.
Our students and staff have worked extremely hard for these results and we are pleased that their efforts have been duly rewarded. We wish all our students every success and happiness in their future as they look towards the next stage of their learning journey.
"This outstanding set of results in what has been a truly challenging year is testament to the hard work and effort the boys have put into their studies, supported by their fantastic teachers. I'm very proud of them all and wish them all the best for the future."

- Mr Mark Birkbeck, Headmaster
You can read about previously released vocational study results below:
100% Triumph for BTEC Horticulture
100% Achievement in Motor Mechanics
100% Passes for LAMDA Acting Awards
Find out more about our Primary & Secondary School here.