Smashed Project visit our PSHE classes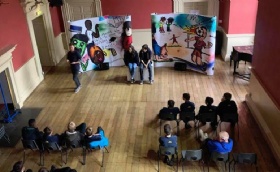 The dangers of underage drinking and peer pressure uncovered in PSHE...
Multi-sensory teaching is so important to us, and our recent visitors helped us bring PSHE learning to life. The Smashed Project is an educational theatre initiative with a vision to break the culture of underage drinking, reducing alcohol related harm to young people around the world. They work with governments, the alcohol beverage industry, and creative partners to realise this vision.
Our pupils really enjoyed the performance and excellent PSHE discussion about the emotional consequences of underage drinking and how to navigate peer pressure. They even gave the team some feedback of their own: 'You're amazing people and should be very proud.' Well, we can't say fairer then that!
The students have been learning about these topics in their current PSHE lessons, and Year 9 have been learning about Theatre in Education within their Drama lessons.