Boarders Get Technical for "The Midnight Gang!"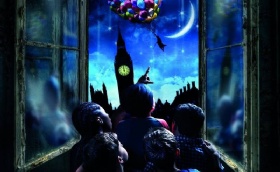 Our boarders lend their talents to Chichester Festival Theatre!
Our Drama department understands that everyone is creative in different ways, which is why Mr Bentley-Angell and Boarding House Parent Mr Highfield have arranged for students in Year 10 + to join the professional technical team at the famous Chichester Festival Youth Theatre on Wednesday evenings after school.
Technical Youth Theatre is a chance to explore what life behind the scenes is like. Members spend their time exploring all the practical, technical and creative elements that go into putting on theatrical shows. With membership of Technical Youth Theatre there are also opportunities to work on productions housed in Chichester Festival Theatre! This term, they have been making props for the current production of "The Midnight Gang" by David Walliams! The props they have been helping to create will appear in the show during the Autumn.
Topics covered at CFTYT are:
Stage management & backstage work
Script analysis
Set design, scale drawing and model box making
Prop making & management
Lighting design and use of technical equipment
Sound
Costume making & wardrobe management
Stage makeup
Puppet making & puppeteering
Stage fighting & weaponry
Mask making
Pyrotechnics
Stage craft & health and safety
Not to mention, this is a great social experience for the pupils, who can interact with other boys and girls of their own age in a safe environment, outside the school setting!
Members will also work towards achieving an Arts Award. They embed the Arts Award qualification into the Technical Youth Theatre programme depending on the level of commitment and enthusiasm; members will achieve either a Bronze, Silver or Gold Arts Award by then end of 2 years.
See www.artaward.org.uk for more information.
To see what is on at Chichester Festival Theatre, click here!