Open House Friday!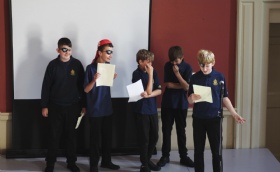 Current parents and families were welcome to join us for our Open House and Showcase!
We had a very successful and enjoyable Open House this year for all current parents and families, including personalised tours of the school; a delicious buffet lunch, plus a variety of short performances in the Main Hall involving students reading their English work, short Drama extracts, Music performances and a glimpse into our Sports Term activities!
Check out our facebook page to see some of the fantastic performances!
Thank you to our kitchen staff for an incredible buffet, as well as Miss Emily Coffey for arranging the day and Mrs Joan Bull and Mr Bentley-Angell for hosting!