Slindon College: LIVE!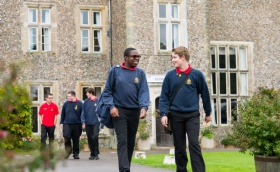 We went LIVE on Facebook for our Open Morning!
Our very brave teachers went LIVE on Saturday 6th October for our Open Morning at Slindon College!
Hosted by our Social Media and Website manager, Mr Bentley-Angell; teachers from various departments talked about how they achieve great results and encourage our students to succeed. They gave examples of outstanding practices and up to date resources. The LIVE Feed began with a talk from the Headmaster, Mr Mark Birkbeck.
To see the departments speak LIVE, check out the feed from our Facebook page here.
Thank you to everyone involved for our courage in camera! We were watched at home by just under 500 at the time of writing!