First Aid Training for our Pupils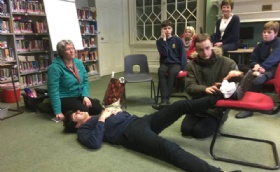 Important life skills are taught at Slindon College!
Our pupils thoroughly enjoyed their first aid course ran by Forever First Aid! It was an excellent course, adapted to suit the needs of participants and hosted by a calm and knowledgeable instructor.
Forever First Aid for schools and community training aims to give everyone an opportunity to learn life skills. They specialise in delivering workshops to school age children and community groups.
Their experienced, enthusiastic trainers deliver interesting, fun filled, interactive first aid workshops and courses – resulting in a certificate of competence or awareness.