Max Parker visits for an inspirational Speech!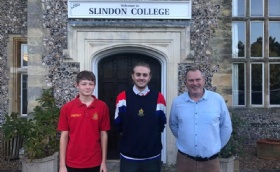 Touching words from an Ex-Student
Welcome back to our ex-boarder and now successful Talent Agent, Max Parker who returned to Slindon College last week to give an inspirational speech to our boys!
Max talked openly about how the school catered to his needs, and gave him the confidence that has taken him through his adult life. Pictured above with our Head Boy, and Daniel Highfield, House Parent. A fantastic treat for us all on World Teachers Day!
To hear an extract from his speech, check out the video on our Facebook page.